Biden honors the generations of US soldiers who "dared all and gave all" as he observes Memorial Day.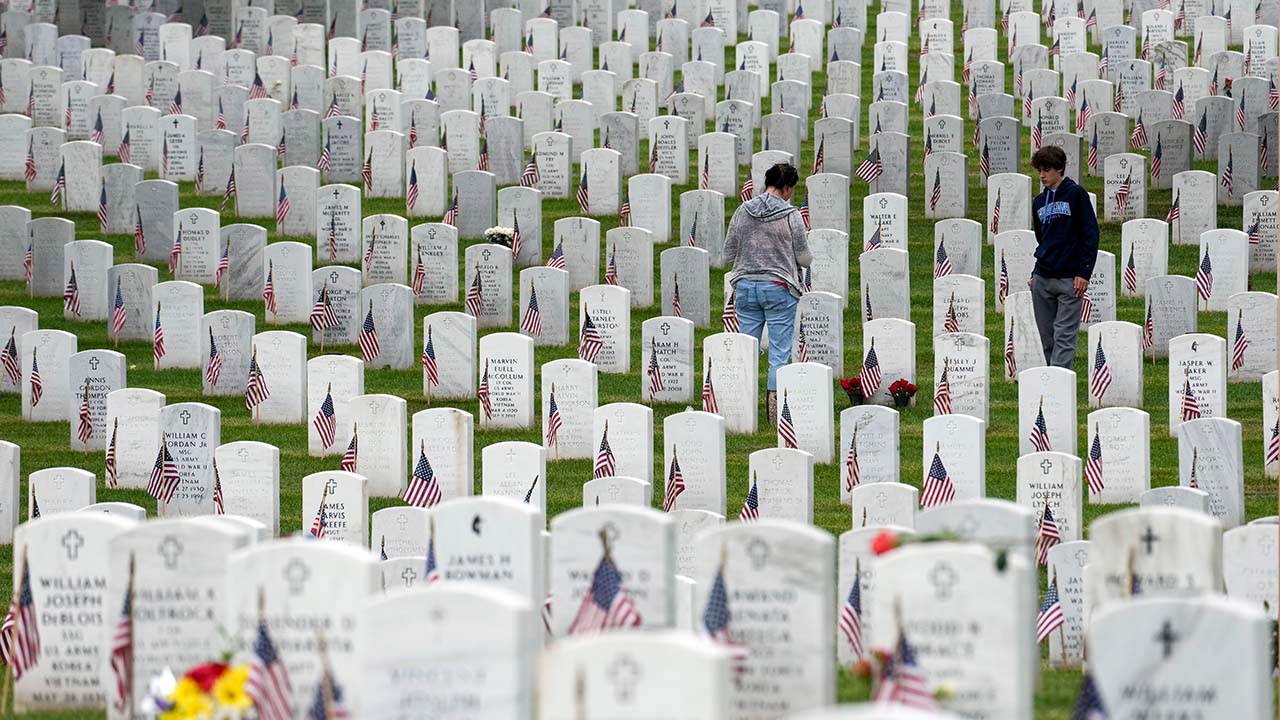 As he observed Memorial Day with the customary wreath-laying ceremony at Arlington National Cemetery, President Joe Biden praised the sacrifice of generations of American soldiers who "dared all and gave all" fighting for their country and urged people to make sure that their "sacrifice was not in vain."
For the 155th National Memorial Day Observance, Biden was accompanied by first lady Jill Biden, vice president Kamala Harris, and Harris' husband, Douglas Emhoff. In front of the wreath, which was decked with flowers and a red, white, and blue bow, he took a minute to reflect before he lowered his head in prayer.
In a subsequent speech at the Memorial Amphitheater, Biden emphasized the need to "never forget the price that was paid to protect our democracy." "We must never forget the lives that these flags, flowers, and marble markers represent."
"Every year we remember," he said. And each year, it doesn't become any simpler. The official holiday remembering America's dead servicemen and women was observed on Monday, one day after Biden and Republican House Speaker Kevin McCarthy struck a final agreement on a plan to extend the country's debt ceiling and which is currently awaiting congressional approval.
According to the agreement's current language, nondefense expenditure would remain essentially unchanged in the 2024 fiscal year and rise by 1% the following year. According to the proposal, military spending may increase by 3% in fiscal 2024, to $886 billion, and by another 1% in fiscal 2025, to $895 billion.
After two decades of war in Afghanistan and Iraq, Biden has taken satisfaction in the fact that his Democratic government has presided over a period of relative calm for the American military.
Biden fulfilled a campaign pledge to stop a 20-year "forever war" that claimed the lives of more than 2,400 U.S. military personnel by bringing an end to the country's longest conflict in Afghanistan over 21 months ago.
But under Biden's leadership, the war in Afghanistan came to a bloody conclusion in August 2021, with detractors condemning the administration's handling of the withdrawal of some 120,000 Americans and other nationals as being poorly planned and poorly carried out.
In an assessment of the last days of the war published last month, the Biden administration mostly blamed his Republican predecessor, President Donald Trump, and claimed that Biden was "severely constrained" by Trump's actions.
The U.S. is now in charge of a coalition of partners providing Ukraine with tens of billions of dollars in military and economic help as it attempts to fend off the Russian invasion, which doesn't seem to be coming to an end.
While making it clear that he does not want American troops to get involved, Biden has insisted that he views Russia's attempt to seize territory as a violation of international law. He has pledged to support Kyiv in its fight for victory by sending artillery, tanks, and drones, and most recently, he agreed to allow allies to train the Ukrainian military on American F-16 jets.
According to Biden, the influence of the sacrifices made by the dead Americans "goes far beyond those silent stones" of the somber burial place and extends to the work of American soldiers now stationed across the globe.
Biden added, "We see the bonds that were forged in the fires of two World Wars built into the strength of our NATO alliance." "We see it in the soldiers who are still guarding the peace with partners on the Korean Peninsula. We can see it on every base, barrack, and ship where our armed forces proudly serve and act as a force for good across the world.
Biden also discussed the significance of taking care of American military men both on and off the battlefield at the Arlington event.
To prepare those we put into harm's path and to care for them and their families both when they return home and when they don't, according to Biden, is our sole genuinely sacred commitment.
The president mentioned a law he had signed extending federal health care benefits to millions of veterans who had served at military installations where toxic smoke rose from enormous burn pits that were frequently used by the military until a few years ago to dispose of chemicals, tires, plastics, and human and medical waste.
The Bidens hosted a breakfast at the White House for representatives of veterans organizations, military service and family organizations, surviving families of fallen American soldiers, senior Department of Defense officials, and other administration officials on Monday before the ceremony at the Arlington Cemetery in Virginia.
Later on Monday, the president and first lady were slated to go back to their residence close to Wilmington, Delaware, where they would spend the remaining portion of the federal holiday.