Boris Johnson criticised by watchdog over ministerial code changes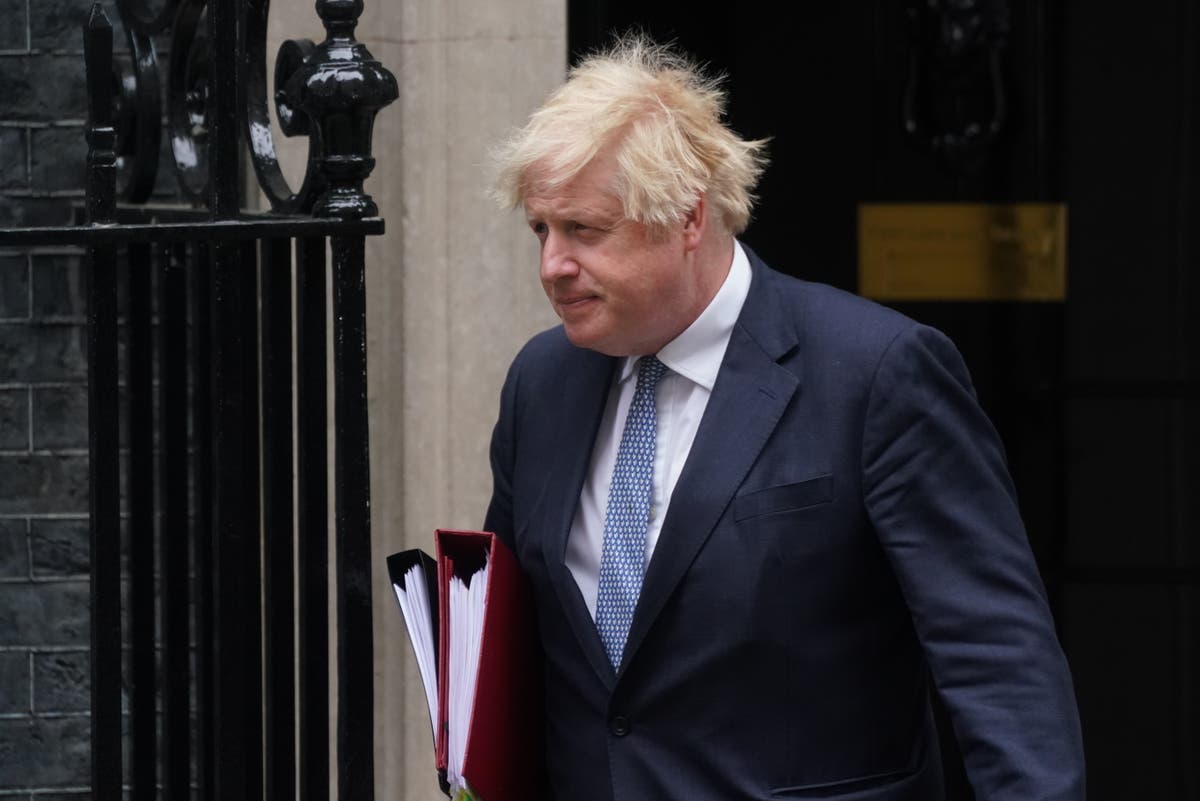 A watchdog has expressed concern in response to Boris Johnson's changes to the ministerial code, warning that the prime minister retains the ability to "critically undermine" the official in charge of investigating potential breaches.
Critics of the embattled Mr Johnson accused him of "watering down the rules to save his own skin" and "acting like a tinpot despot" last week, after he announced changes to the code which mean that ministers will no longer necessarily be expected to resign if they are found to have breached it.
Under the revised code, if the prime minister wishes an offending minister to retain their post, sanctions for code breaches could instead require "some form of public apology, remedial action, or removal of ministerial salary for a period".
However, not only will Mr Johnson himself still be expected to resign if the current investigation by MPs concludes that he misled parliament over the Partygate scandal, the alterations to the code were also made following recommendations by the independent Committee on Standards in Public Life.
But the watchdog's chairman Lord Evans of Weardale said on Monday that its recommendation for a range of punishments for ministers had been partly intended to remove the need for Mr Johnson to have an effective veto on whether breaches should be investigated – which he still retains.
The government said on Friday that while there would be an "enhanced process" for the independent adviser on ministers' interests, Lord Geidt, to launch his own inquiries, he would still need the prime minister's permission.
In his official response on Monday, the watchdog's chairman Lord Evans of Weardale – a former head of MI5 – warned that although there had been "improvement", the role of Mr Johnson's adviser was "still not sufficiently independent".
Lord Evans also expressed concern that the prime minister retained the ability to overrule his advisor on the finding of a breach – circumstances he warned "would critically undermine the credibility of the adviser's office".
Lord Geidt's predecessor, Sir Alex Allan, resigned in 2020 after Mr Johnson rejected his finding that home secretary Priti Patel had been guilty of bullying civil servants.
While Lord Evans said the government's move to introduce a range of sanctions for code breaches was "in line" with the committee's recommendations, the committee's recommendations had been "part of a package" designed to hand greater freedom to the adviser to investigate potential breaches.
In the past, governments have resisted the move to allow the independent advisor to launch their own investigations into possible ministerial breaches, Lord Evans said, given that the presumption of resignation would have handed them an "effective power to fire a minister".
But Mr Johnson's introduction of a range of sanctions for code breaches – replacing the blanket expectation of resignation – had removed "this constitutional obstacle", Lord Evans said, rendering objections to granting the advisor power to initiate his own investigations invalid.
UK news in pictures Show all 50 1 /50 UK news in pictures UK news in pictures 8 June 2022 An activist from Extinction Rebellion holds a dog wearing a construction helmet as they attend a protest during a biodiversity conference being held at Dublin Castle, calling for legal protection for Ireland's wildlife Reuters UK news in pictures 7 June 2022 Downing Street staff take down Jubilee bunting outside 10 Downing Street in London. British Prime Minister Boris Johnson has survived a "vote of no confidence" over his leadership but has lost over forty percent of support from his MP's following the vote at parliament EPA UK news in pictures 6 June 2022 Gannets gathered at Bempton Cliffs in Yorkshire, as over 250,000 seabirds flock to the chalk cliffs to find a mate and raise their young. From April to August the cliffs come alive with nest-building adults and young chicks PA UK news in pictures 5 June 2022 Performers take part in the Platinum Jubilee Pageant Reuters UK news in pictures 4 June 2022 Past and present jockeys who have ridden Queen Elizabeth II's horses line up dressed in her colours on Derby Day Reuters UK news in pictures 3 June 2022 Prince Harry makes a face as he waits for the start of the National Service of Thanksgiving for The Queen's reign at Saint Paul's Cathedral AFP/ Getty UK news in pictures 2 June 2022 Britain's Queen Elizabeth II stands on the Balcony of Buckingham Palace bas the troops march past during the Queen's Birthday Parade, the Trooping the Colour AFP/Getty UK news in pictures 1 June 2022 Gardeners David Kay and Lou Singfield tend to the wildflower meadow which has burst into flower at King's College in Cambridge PA UK news in pictures 31 May 2022 Sir Sean Connery's Aston Martin DB5 which is expected to fetch up to £1.4 million at auction. The family of the James Bond actor, who died in October 2020 aged 90, is selling the 1964 classic car to raise money for a philanthropy fund set up in his name PA UK news in pictures 30 May 2022 Corgi Charles and friends enjoy a spot of tea during The Jubilee Tea Pawty at award winning doggy day care, Bruce's Ben Stevens/PinPep UK news in pictures 29 May 2022 Nottingham Forest's Cafu celebrates after winning the Championship Play-Off Final against Huddersfield Town at Wembley Action Images via Reuters UK news in pictures 28 May 2022 Balloons light up as they are tethered to the ground during the night glow at the Isle of Wight Balloon Festival at Robin Hill Country Park, Isle of Wight PA UK news in pictures 27 May 2022 A crow chases an urban fox, who has dug up a bird carcass, outside the Old Bailey, central London PA UK news in pictures 26 May 2022 Pedestrians walk past a 'Living Wall' art project, produced in collaboration with The National Portrait Galler and the Earls Court Development Company, in west London AFP/Getty UK news in pictures 25 May 2022 Guests during a Royal Garden Party at Buckingham Palace in London PA UK news in pictures 24 May 2022 People walk past the Liverpool Street station sign along the Elizabeth Line on its first day of service as it joins the London Underground network in London, Britain EPA UK news in pictures 23 May 2022 A young child amongst group of people thought to be migrants is carried by a member of the military as they are brought in to Dover, Kent PA UK news in pictures 22 May 2022 Fernandinho of Manchester City lifts the Premier League trophy after their side finished the season as Premier League champions during the Premier League match between Manchester City and Aston Villa Getty Images UK news in pictures 21 May 2022 France's Thibault Laly during day one of the Mercedes-Benz UCI MTB World Cup event in Fort William PA UK news in pictures 20 May 2022 Chef Jamie Oliver takes part in the 'What an Eton Mess' demonstration outside Downing Street, calling for Prime Minister Boris Johnson to reconsider his U-turn on the Government's anti-obesity strategy PA UK news in pictures 19 May 2022 Sculpture conservator Marisa Prandelli adjusts a display of heads of 'Cybermen' in the monster vault at the 'Doctor Who: Worlds of Wonder' exhibition which opens at the World Museum later this month in Liverpool Reuters UK news in pictures 18 May 2022 People cross Regent Street, decorated with flags to mark the upcoming platinum jubilee , to mark the 70-year reign of Queen Elizabeth II AP UK news in pictures 17 May 2022 Prime Minister Boris Johnson with Transport Secretary Grant Shapps and Mayor of London Sadiq Khan on a Elizabeth Line train at Paddington station in London PA UK news in pictures 16 May 2022 Protesters from Border Communities Against Brexit outside Hillsborough Castle during a visit by Prime Minister Boris Johnson to Northern Ireland for talks with Stormont parties PA UK news in pictures 15 May 2022 Queen Elizabeth II departs following the A Gallop Through History Platinum Jubilee celebration at the Royal Windsor Horse Show at Windsor Castle PA UK news in pictures 14 May 2022 Heat haze softens the scene as a paraglider takes to the sky over the cliffs above Boscombe beach in Dorset PA UK news in pictures 13 May 2022 Nazanin Zaghari-Ratcliffe with her husband Richard and daughter Gabriella as they leave 10 Downing Street, after a meeting with Prime Minister Boris Johnson PA UK news in pictures 12 May 2022 Rebekah Vardy leaves the Royal Courts Of Justice, London, during high-profile libel battle between Rebekah Vardy and Coleen Rooney PA UK news in pictures 11 May 2022 A Goldeneye swims in the rain at Slimbridge wetlands, Gloucestershire PA UK news in pictures 10 May 2022 Britain's Prince Charles, Prince of Wales appears on a screen next to a painting of Queen Elizabeth at the Royal Gallery as he delivers the Queen's Speech during the State Opening of Parliament at the Houses of Parliament, in London AFP/Getty UK news in pictures 9 May 2022 Linda Bainbridge (left) and Miyuki Griffin putting the finishing touches to The Crown, Orb and Sceptre exhibit as part of A Festival of Flowers' at Salisbury Cathedral. Hundreds of flower arrangers will be mounting 127 individual exhibits throughout the cathedral in honour of the Queen's Platinum Jubilee PA UK news in pictures 8 May 2022 Durham Cathedral which stands on The Bailey, a peninsula formed by the River Wear looping around the historic centre of Durham PA UK news in pictures 7 May 2022 Girls from Grace and Poise, the world's first Muslim ballet school, perform during the Eid in the Square festival in Trafalgar Square, London PA UK news in pictures 6 May 2022 Ballots are emptied from a ballot box to be counted, during local elections, at Wandsworth Town Hall, London Reuters UK news in pictures 5 May 2022 British Prime Minister Boris Johnson arrives at a polling station with his dog Dilyn to vote during local elections in Westminster, London EPA UK news in pictures 4 May 2022 Rob Munday, creator of the first officially commissioned 3D/holographic portrait of Queen Elizabeth II in 2004, unveils a previously unseen portrait of the monarch to celebrate the Platinum Jubilee, in London. The new portrait is named 'Platinum Queen: Felicity' and is dedicated to the 20 years of friendship between The Queen and her personal assistant and close friend Miss Angela Kelly AP UK news in pictures 3 May 2022 Alex Kelly from Eden Architectural Conservation cleans a gargoyle on the north doorway at Rosslyn Chapel in Roslin, Midlothian, as part of conservation maintenance PA UK news in pictures 2 May 2022 People enjoy theme park rides at a funfair at Small Heath Park in Birmingham, as the holy month of Ramadan comes to an end and Muslims celebrate Eid al-Fitr PA UK news in pictures 1 May 2022 England's Ronnie O'Sullivan in action against England's Judd Trump during day sixteen of the Betfred World Snooker Championship at The Crucible, Sheffield PA UK news in pictures 30 April 2022 Visitors record images amongst azalea and rhododendron blossom in Richmond Park, London Reuters UK news in pictures 29 April 2022 A giant puppet, controlled by four people, called Gnomus, the Caretaker of the Earth, performs at Stonehenge, near Amesbury, Wiltshire PA UK news in pictures 28 April 2022 The Prince of Wales and the Duchess of Cornwall in a TV studio during a visit to the BBC World Service at BBC Broadcasting House, London, to mark it's 90th year and to thank staff and learn how they are continuing their operations across Ukraine, Russia and Afghanistan PA UK news in pictures 27 April 2022 Trafalgar Square in central London is covered in plants and flowers at the launch of an initiative to rewild and protect 2 million hectares of land. The temporary installation, which is made up of over 6000 plants, flowers, and trees, aims to raise awareness of the importance of biodiversity in urban spaces, with visitors to the site invited to pick up and rehome one of the plants PA UK news in pictures 26 April 2022 One of the Liverbirds that sits atop of the Royal Liver Building in Liverpool, is illuminated just before the sun rises over the city PA UK news in pictures 25 April 2022 Prime Minister Boris Johnson paints over the white line of the centre circle during a visit to Bury FC at their Gigg Lane ground in Bury, Greater Manchester Getty UK news in pictures 24 April 2022 A lone Grenadier Guard during the Dawn Service commemorating Anzac Day at the New Zealand Memorial at Hyde Park Corner, London PA UK news in pictures 23 April 2022 Killy Cavendish during St George's Day celebrations in London's Trafalgar Square PA UK news in pictures 22 April 2022 A demonstrator holds a pink smoke flare billowing over members of Extinction Rebellion staging a protest against the use of and investment in fossil fuel, outside offices of Vanguard Asset Management on Earth Day in the City of London Reuters UK news in pictures 21 April 2022 The Honourable Artillery Company (HAC), the City of London's Reserve Army Regiment, fire a 62 Gun Royal Salute at the Tower of London to mark the 96th birthday of Queen Elizabeth II PA UK news in pictures 20 April 2022 Stella Morris the wife of Julian Assange talks to the media outside Westminster Magistrates' Court in London, after Wikileaks founder Julian Assange was formally issued with an order for extradition to the US to face espionage charges PA
The watchdog also warned that the post currently held by Lord Geidt "remains an unregulated, direct appointment" by the prime minister.
Lord Evans also appeared to take subtle aim at Mr Johnson's removal of references to the seven Nolan principles of public life – integrity, objectivity, accountability, transparency, honesty and leadership in the public interest – from the foreword of the ministerial code.
The Nolan principles "continue to define the public's expectations of conduct for all those in public office", Lord Evans wrote, adding: "High ethical standards, and effective regulatory processes to maintain the standards expected, are integral to the operation of effective government.
"They are part of the checks and balances that define the character of our democracy, provide accountability in between elections and help ensure public trust in the integrity of government."
Labour is expected to attempt to force a Commons vote on the changes when parliament returns from week-long recess break – marking one of several challenges potentially awaiting the prime minister.
As the number of Tory MPs coming forward with demands for Mr Johnson to resign in the wake of Sue Gray's Partygate report continued to grow on Monday, some speculated that 1922 Committee chairman Sir Graham Brady could have already received the requisite 54 letters needed to spark a vote of no confidence, and could be waiting for the Commons to return to make his announcement.