Bajwa-Khan deceives Gilgit Baltistan people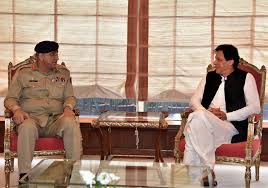 The Pakistan Army in cahoots with Prime Minister Imran Khan have, once again, deceived the people of Gilgit-Baltistan (GB) by rigging the recent elections.
The rigging has been so brazen and extensive that people have come out on the streets of Gilgit city and other towns to express their anger.
Even the Human Rights Commission of Pakistan (HRCP) has expressed dismay and alarm at the malpractices during the elections. A HRCP team, which went around the region as independent observers, found their entry to polling stations during the counting barred. The team received scores of complaints from local people. The complaints include multiple voting at women's polling stations in at least two districts, Ghanche and Diamer. The team also found some women candidates getting death threats and some women's organisations tempted with funding to build their offices in lieu of their support.
The Gilgit Union of Journalists had similar malpractices to report. Noted English weekly, The Friday Times, reported " serious reservations about the way the whole exercise was conducted by Election Commission officials."
For instance, Prime Minister Imran Khan, in contravention of election rules, was allowed to enter the fray and campaign where he promised a separate province whereas there has been no legislative move on that front. Similarly, a group of his Cabinet ministers followed in breaking the election commission codes with impunity.
The army-Imran Khan's first step towards `winning` the elections through hook or crook was to install an "interim government" to oversee the elections without any political consultation and consensus as the law mandated. The same cavalier manner was exhibited in appointing the election commissioner. Then elections were postponed to facilitate `horse trading`–at least eight candidates from the Nawaz Sharif's party were induced to switched sides.
Political parties are up in arms over, what they call, `stealing` the elections. The Pakistan Muslim League-N is threatening a march to the Chief Election Commission's office in Islamabad. The party pointed out that Imran Khan's PTI got only 24 per cent of votes while Pakistan People's Party had netted 25 per cent. The PTI won nine out of 23 seats, which is far off from a majority.
The PTI-Pak Army combine is moving fast to stem the tide of protest by using the oldest trick in their book—launch `corruption` cases against those who protest. In Punjab, new probes have been ordered against dozen PMLN politicians. Several political leaders are on the firing line. The establishment is desperate to shut any dissent on the GB election and the combined Opposition rallies scheduled for December.