Pakistan's landmines: 'Toys' that kill children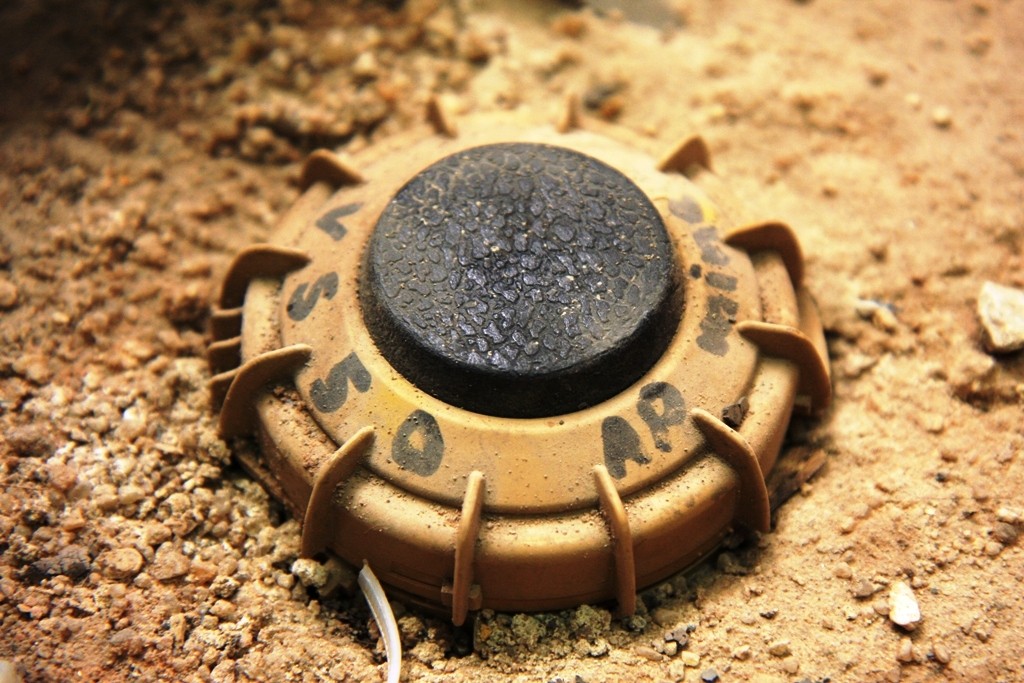 They come brightly colored, flat and rounded like shoe-polish tins. They also carry catchy names like 'Butterfly' and 'Green Parrot'. Some resemble water bottles, and some look like pens that attract children but they are not toys, they are landmines that kill children and blow up unsuspecting adults, pet animals and cattle that stray on to them in Pakistan's vast tribal areas of Waziristan and along the border with India.
If one of the wings of these colorful toy-like landmine is pressed, the whole contraption explodes, causing deaths, loss of limbs and the trauma leads to several ailments. 
Pakistan is one of the 33 countries that has not signed the 1997 Ottawa Convention. It is among the foremost nations that actively produce and maintain high stockpiles of landmines.
Pakistan insists that its self-defense strategy is highly dependent on landmines because of the lack of natural obstacles- mountain ridges, rivers or deserts.
The global Mine Ban Treaty known as the Ottawa Convention (which became international law in 1999) has been signed and ratified by 162 countries. According to the International Campaign to Ban Landmines network, more than 4,200 people, of whom 42 per cent are children, fall victim to landmines and other explosive remnants of war (ERWs) annually in many of the countries affected by war or in post-conflict situations around the world.
Accidents due to landmines are happening in other places in Pakistan too. According to SPADO, in 2017, among the 316 injuries and 153 deaths in total, Pakistan-administered Kashmir recorded seven landmine related accident, Balochistan province had 171, Federally Administered Tribal Area (FATA) 230, and Khyber Pakhtunkhwa, 61.
A majority of the injured and dead were men who were found either driving, fetching water, taking livestock for grazing, rescuing others who had stepped on a bomb etc. Children were usually playing outside when they chanced upon a shiny object, looking like a "disc-shaped shoe polish box" hidden in the grass which they attempted to pick up.
Apart from the above mentioned 2017 statistics, there is no estimation of their numbers, or the areas that are land-mined. Even the estimates of those killed are either old or unavailable. The authorities give no data and the non-government agencies are not allowed to survey them.
Security analysts estimate Pakistan's stockpiles to be at least sixty lakhs anti-personnel mines which makes it fifth-largest stockpile in the world.
Pakistan's tribal areas, to recall the sordid past, were used for recruitment and training of Mujahideen to fight against the Russian-backed regime in neighboring Afghanistan. The perennially squabbling tribals then laid additional landmines to protect their bases and weapons supply lines. The Soviets pulled out from Afghanistan in 1989, but fragments of that war and the continuation of catastrophic geopolitics left a heavily militarized region in its wake. It is perpetuated as the tribals fight the government which fights or nurtures the militants in order to export terrorism abroad. 
In the 1990s, there was a clampdown on such brazen activities, particularly in Kurram, where sectarian violence intensified between Shia and Sunni groups. Between 1999 and 2006, one NGO conducted on-ground assessments in Bajaur and Kurram. Since these were agricultural lands with high population densities, they were considered to be the worst hit by landmines left behind by the war.
Even today, according to a special report "Toying with death" by Sama Faruqi, the vast majority of casualties are children: their inquisitive minds leading them off well-trodden paths, picking up and examining everything in sight. There are also a large number of women — particularly those who rear livestock, the primary occupation in Waziristan — who fall prey to landmines while herding or chasing after their animals on mountaintops. And then there are countless animals.
Rather than eliminate mines and solve the problem, the government is part of – even creator of — the problem. Since a decade, local population of Waziristan has been facing the brunt of rampant use of landmines by Pakistani security agencies. Mehsud belt of Southern part of Waziristan is especially affected.
Landmines related incidents get pace in summer season when most of the locals migrate to plain areas to seek protection from harsh weather condition.
At many places there are signboards written in Pashto language warning 'landmines are planted in this area and people should avoid visiting'. But many locals cannot read. In any case, they maintain that livestock are the biggest casualties. Livestock is the biggest source of their income and landmines restrict already shrinking grazing area.
A collective protest and effort to seek redressal is emerging. Tribals have been vehemently demanding the removal of landmines from their areas. Pakistan Tahafuz Movement (PTM), local human rights group recently held a protest on August 12, 2020 against the state oppression and one of their demands was the removal of landmines from tribal districts.
They had held a similar procession in 2018 comprising about 60,000 protesters in Islamabad. The then Prime Minister of Pakistan, Shahid Khaqan Abbasi had agreed to their demands and ISPR had announced that 100 bomb-disposal teams would be sent to South Waziristan to clear the area of landmines, but that promise was never fulfilled.
The Pakistan Army keeps insisting that they bear all the expenses of landmines-blasts victims, but there are numerous instances when victims have publicly denied having received any such assistance from either the government or the army.
Since the Pakistani mainstream media rarely reports these cases, precise data is not easy to come by. This makes the task of the civil society difficult. The NGOs that are working towards removal of landmines and helping victims are often targeted and are not allowed to perform their duties. Local activists are also cautious about sharing reports to media because of fear of state surveillance.
Since there seems to be no sign of Pakistan ending this practice, the story of death and destruction due to landmines may remain unexploded.