## J&K: PPL T20 Cricket tournament concludes, Chatrahama Knights lifts title ##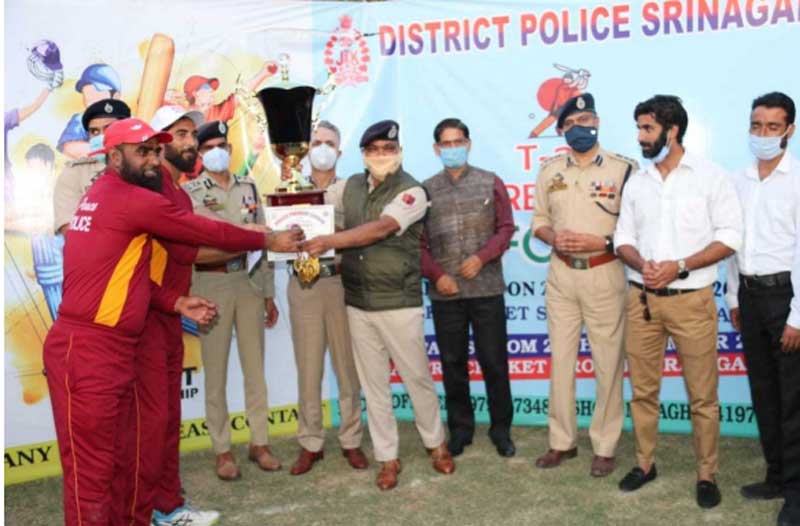 Jammu and Kashmir Police is organizing various sports events for youth and together we are working for peace, which is our joint responsibility, Director General of J&K Police Dilbag Singh said on the closing ceremony of second Police Premier League (PPL) "Play for Peace" T20 Cricket Tournament.
The tournament was organized by Jammu Kashmir Police under its Civic Action Programme, at Sher-e-Kashmir Cricket Stadium, Sonawar, Srinagar.
Dilbag Singh was the Chief Guest and ADGs P.R.R. Swain, A.G. Mir, IGP Kashmir Vijay Kumar, SSP Srinagar Dr. Haseeb Mughul, CRPF officers zonal SP of Srinagar and other gazetted officers of Srinagar district attended the closing ceremony.
Speaking on the occasion, the DGP congratulated the winning and runners-up teams.
He appreciated the District Police Srinagar and other partner agencies, persons for the successful conduct of the mega event.
The DGP said the excitement and response shown by the players from 16 teams in the event is appreciable. He said that Jammu and Kashmir Police has always been on the forefront in providing platform to youth and guide them in following their goals by organizing different events across Jammu & Kashmir.
Dilbag Singh further said that in the coming days, half a dozen sports activities are being organised by Jammu and Kashmir Police across the valley.
He said that one-month long sports festival will begin from shortly in District Bandipora and then, in District Handwara, a Cricket tournament is being organised. Similarly, he said, in District Srinagar, 'Pedal for Peace' is being organised in Srinagar and later Jash-n-Dal will be organised.
The DGP presented trophies to the winner and runner up teams. He also distributed cash prizes to the Man of the Series and Man of the match.
The final match was played at Sher-e-Kashmir Cricket Stadium, Sonawar Srinagar between Chatrahama Knights and Golden Brands in which Chatrahama Knights emerged as winners of the tournament.
The event was organised by District Police Srinagar and witnessed an overwhelming response from the youth as 16 teams from the Srinagar city participated.
SSP Srinagar Dr Haseeb Mughal thanked the DGP for gracing the closing ceremony event and for encouraging the youth of the district. He said that this gesture would go a long way in nurturing sports activities in the summer capital city.
The two captains of the final match thanked the Jammu and Kashmir Police for providing platform for them to show their talent and expressed their hope that such events will be organised in the future also.