Iran vows to Destroy any American Terrorist force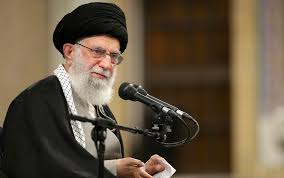 The commander of the Iranian Revolutionary Guard Corps has ordered his Navy to destroy any American terrorist force that threatens Iranian ships in the Persian Gulf.
This latest bellicose statement emanated from Major General Hossein Salami on state television. It came a day after President Trump warned the Iranians via Twitter that he has "instructed the United States Navy to shoot down and destroy any and all Iranian gunboats if they harass our ships at sea." Salami added that security in the Gulf is part of Iran's "strategic priorities."
Trump's warning came as a response to a naval incident of about a week ago, when U.S. vessels sailing in international waters in the Gulf, were harassed by 11 Iranian Islamic Revolutionary Guard Navy gunboats. The Iranian gunboats made several aggressive maneuvers near the American ships, including multiple crossings of one ship, the Puller, within a 50-yard closest point of approach and within 10 yards of another ship, the Maui's, bow, according to U.S. Navy 5th Fleet.
The 5th Fleet reported that Iran conducted "dangerous [and] harassing approaches on U.S. naval vessels" and that American crews "took actions deemed appropriate to avoid a collision."
U.S. Secretary of Defense Mark Esper had called the stunts by the Iranian boats "provocative and unprofessional" and added that "a message needs to be sent to the Iranian commanders that if they threaten our warships, we reserve the right to self-defense."
House Judiciary Committee Member Matt Gaetz (R-FLA), appeared on television and repeated that the U.S. President isn't afraid of taking on any country that threatens the United States. He upped the war of words even more.
"The United States doesn't seek a war with Iran," Gaetz said on Wednesday evening. "Such a war would certainly be lost by Iran, but the winner would undoubtedly be China."
The message is very clear to any Iranian official that would engage in terrorism," Gaetz added. "Either get your act together or get prepared to meet General Soleimani."
From an opposite point of view, Representative Elaine Luria, a Democrat, and a Navy veteran said Trump's tweet could lead to war.
"The president's continued issuing of orders to our military via tweet is a threat to our national security and, if followed without clear guidance and rules of engagement, will unnecessarily escalate tensions with Iran and possibly lead to all-out-conflict," she said.
However, when pressed about Iran's actions last week and whether that would lead to a U.S. armed response Hyten answered, "I would have to be the captain of the ship in order to make that determination," which is exactly where the administration put the responsibility and authority.
Salami's threats were repeated by Iranian Foreign Minister Javad Zarif, who also posted on Twitter that President Trump should focus on treating positive coronavirus cases in the U.S. military rather than Iranian provocation in the gulf.
"The U.S. military is hit by over 5,000 #covid19 infections. @realdonaldtrump should attend to their needs, not engage in threats cheered on by Saddam's terrorists," Zarif tweeted." Also, U.S. forces have no business 7,000 miles away from home, provoking our sailors off our OWN Persian Gulf shores."
However, the Iranians have historically attacked civilian shipping in international waters in the Gulf, especially in the strategically important Straits of Hormuz. Last year they attacked with missiles a Saudi-flagged vessel. In the past, the U.S. Navy has stopped them from sowing mines in the gulf.