Budding cyclist of Kashmir losing hopes of representing India because his home is in a conflict zone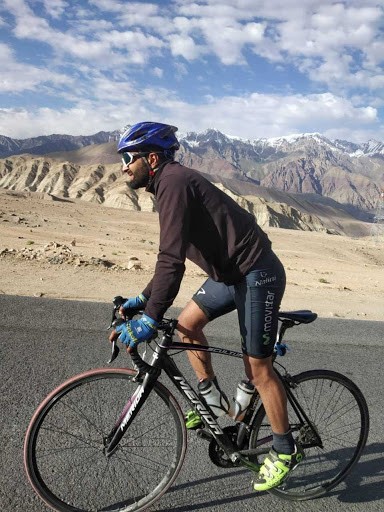 It is his dream to break all boundaries but time and again hopes shatter mostly because he lives in conflict hit erstwhile state of Jammu and Kashmir in India.
 Adil Teli, 23, a resident of Narbal area of Baramulla in Kashmir began his schooling in his area and completed his Higher Secondary education in his locality.
After 12th, he got admission in Gandhi Memorial College Srinagar where he completed graduation. The college has remained a major supporter for uplifting his talent of cycling since the beginning because it was due to Adil's efforts that the college won continuously for three years straight in inter college cycling events.
Today, Adil is enrolled in GNDU College in Amritsar for Bachelors of Physical Education and Sports to explore his talents in cycling.
He started his journey of cycling in 2013 when he represented Jammu and Kashmir in cycling events at national level for the first time and is representing every year till date.
He has also represented Kashmir University for three years in All India University Championships events.
Adil gave a pleasant surprise to the nation last year when he set a record in the field of cycling nonstop from Srinagar to Leh, crossing a distance of 440 kilometres in just 26 hours and 30 minutes, and broke a record set by three groups in 2014, 2015 and 2018. For this, he was nominated for the Youth Icon Award.
Adil has been supported by a renowned Professor of Jamia Millia Islamia namely Akshay Koul from Delhi in nutrition since a couple of months.
He is working hard to fulfil his dream of becoming an icon at national as well as at international level, but his dream breaks every time.
His dreams began to shatter in 2019 when he was nominated for an event at national level in the month of August, but couldn't join because of the turmoil followed by the scrapping articles 370 and 35A in Jammu and Kashmir.
Consequently, he lost the contact of selectors and still they are untraceable. The abrogation of these articles led to a shutdown of four months. The work and transport resumed after four months in December which is not a suitable time for cycling in Kashmir due to harsh winters.
The season for Adil to explore his cycling was likely to start in mid-March this year but again his dream broke down when the entire world was attacked by coronavirus and the lockdown guidelines were issued by administration everywhere which is still in place and we are now living in a world of pandemic where no events, no sports, no gatherings is a norm.
These athletes need to be a part of violence free state to live and explore their talent so that they could participate in every event. If these unfortunate situations of J&K do not change in future, Adil will lose his talent which can lead to his mental disturbances.
Adil these days has got an opportunity to take part in several national level events and also for sponsorship but after all those experiences, he believes that he could miss these opportunities again because he lives in a conflict zone.