## J&K: Anganwari's establish nutrition gardens in Ghagwal to mark National Nutrition Mission month ##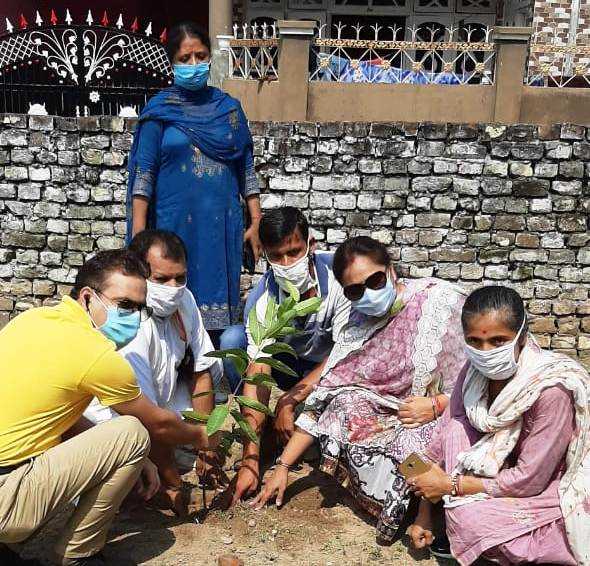 At the Anganwari Centres of Ghagwal block in the Samba District of India's UT Jammu and Kashmir (J&K), nutrition gardens have been developed to mark the 'Poshan Abhiyan Maah' (National Nutrition Mission month).
During the drive, variety of fruit tree saplings – guava, phalsa, mango and lemon were planted, while seeds of vegetable spinach, knolkhol (belonging to the cabbage family) and raddish were sown to develop kitchen gardens for meeting the nutritional needs of beneficiaries.
Establishment of Nutri Garden is a part of ongoing 'Poshan Maah' being held from September 1 to September 30, 2020, wherein saplings of fruit trees and seasonal vegetables will be planted.
This will be an adjunct for fulfilling nutritional needs of beneficiaries with the objective to make kitchen gardens as an essential part of Anganwari Centres (AWCs) and then of all village households.
Mission Director, Integrated Child Development Service (ICDS), J&K, Nitu Gupta accompanied by Deputy Director, ICDS, Jammu (Nodal Officer of POSHAN Maah) Atul Kumar, and Block Development Council Chairperson Rajpura, Radhey Sham were present on the occasion.
Speaking on the occasion, the Mission Director, ICDS, J&K emphasized on the importance of Nutri Garden. She said that vegetables and fruits grown in these AWCs will meet the micronutrient requirements of beneficiaries.
She further encouraged the Anganwadi Workers (AWWs) to make Poshan Maah a success by identifying and referring Severe Acute Malnutrition (SAM) children with focus on home visits.
She further said that AWCs are the front post of a village and the AWWs should be able to guide beneficiaries – pregnant ladies and nursing mothers regarding breastfeeding and complementary feeding.
The focus on digital Poshan Panchayats under convergence with line departments namely health, education, agriculture, RDD etc was also stressed on.
Among others present were CDPO Ghagwal, Sarpanches, and Panchayat Secretary of various Panchayats.