Pakistan elite police squad poses for selfie with killer of blasphemy accused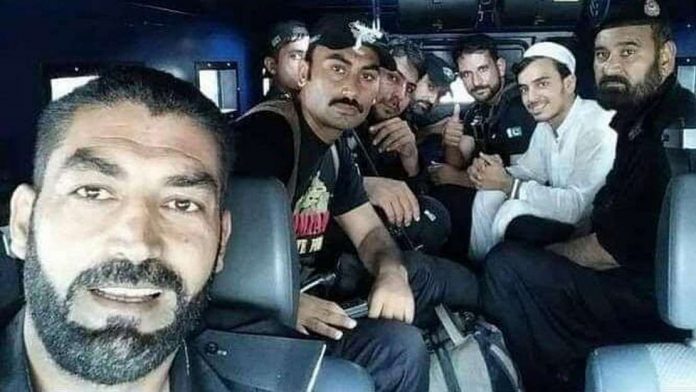 Peshawar elite police squad is facing heat after their group selfie with Faisal alias Khalid, who last week killed American citizen Tahir Ahmad Naseem inside a courtroom, went viral on social media. The photograph has been shared by many, including some journalists and activists.
Naseem, from the minority Ahmadi community, arrested two years ago on charges of blasphemy, was standing trial in a Peshawar court.
Taking to Twitter, Pakistani human rights activist Gulalai Ismail said, "After lawyers taking selfies with the murderer of Tahir Ahmed Naseem, Peshawar police (Elite Force) also joined the bandwagon of making a celebrity out of a criminal involved in a first-degree murder over alleged blasphemy."
"Many people are of the opinion that the murderer Faisal (Khalid) was either handed over the gun by police in courtroom or police helped him take gun inside the court. It's disappointing to see intolerance and violent religious extremism seeped into each and every institution of Pakistan," Ismail wrote.
Ismail further said, "Not a single collective action announced by any political party or any civil society org against the murder of Naseem. Instead, those who condemned the murder, are reassuring people of their Islamic faith. They know anything more than a tweet will get them killed too (sic)."
Naseem was gunned down by Khalid on July 29. "He (Khalid) killed him (Naseem) for having committed blasphemy," police officer Ahmed was quoted as saying.
Naseem had been in Peshawar police's custody since 2018 for having violated sections 295-A, 295-B and 295-C of the Pakistani Penal Code. He was facing charges for allegedly claiming to be a prophet — a violation of "Pakistan's strict blasphemy laws that can carry a death penalty".
Pakistan's controversial blasphemy law carries an automatic death penalty for anyone convicted of insulting God, Islam or other religious figures.
Many members of the minority communities in Pakistan — the Ahmadis, Hindus, Christians and Sikhs were charged with blasphemy law.