UK government under pressure to intervene after Bahrain upholds death sentences for pro-democracy activists 'tortured into confessions'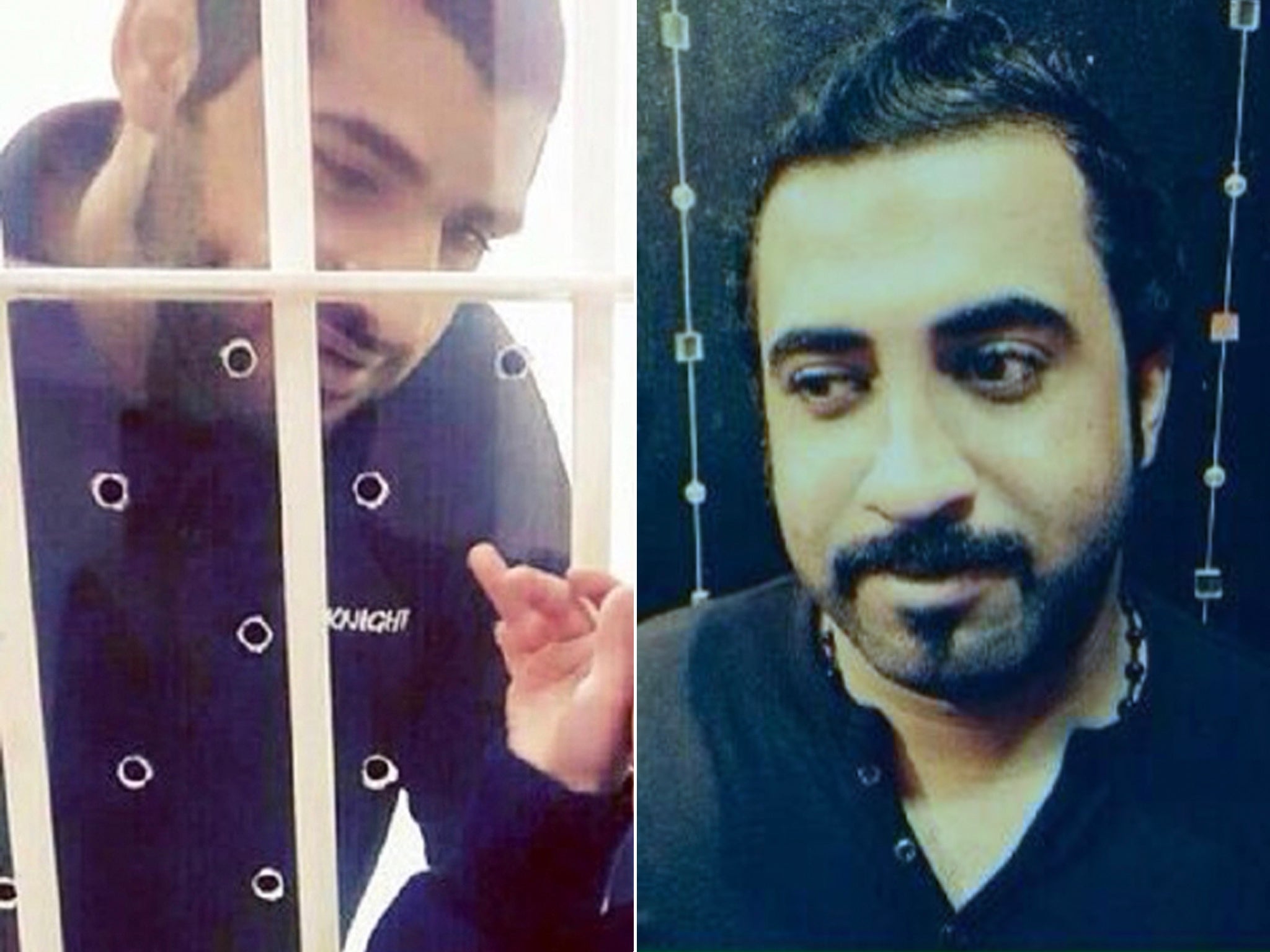 The Independent employs reporters around the world to bring you truly independent journalism. To support us, please consider a contribution.
The UK government is under increasing pressure to intervene after Bahrain's highest court upheld death sentences handed down to two pro-democracy activists, whom human rights groups say were convicted based on confessions extracted through torture.
On Monday the Court of Cassation upheld the convictions of Mohammed Ramadhan, a 37-year-old father of three and airport security guard, and Husain Moosa, 34, a hotel driver, who were convicted in 2014 over the killing of a police officer in a bomb attack that year.
However, Amnesty International and a UK-based advocacy group, the Bahrain Institute for Rights and Democracy (Bird), say both men were tortured to extract false confessions and were subjected to beatings, sleep deprivation and other abuses.
Download the new Independent Premium app Sharing the full story, not just the headlines
Under mounting international pressure, the allegations were initially investigated by two Bahraini security bodies – the Special Investigations Unit (SIU) and the prisons ombudsman – that have been funded and supported by the UK government.
But the SIU dismissed the claims, enabling Bahrain's appeals court to rely on the torture confession when reimposing the death sentences in January.
The probe by the SIU and the ombudsman, which have received millions of pounds worth of training paid for by UK taxpayers, was denounced by independent experts at the International Rehabilitation Council for Torture Victims as "seriously flawed" because it overlooked what the body said was clear medical evidence of abuse.
All legal options are now exhausted, and both men are at risk of execution without notice. In previous cases, the condemned have faced the firing squad.
"Today's verdict is yet another dark stain in the struggle for human rights in Bahrain … This horrendous injustice could not have happened without the tacit acceptance of Bahrain's western allies," Sayed Ahmed Alwadaei, director of advocacy at Bird, said in a statement.
Ahead of Monday's decision, 46 MPs and peers signed an open letter calling on the UK government to urgently intervene in the case.
"The UK government has consistently failed to criticise due process violations in their trial or acknowledge abuses Mohammed and Husain have suffered. Just last week, the Foreign Office said it 'welcomed' the work of SIU and [the ombudsman]," the letter reads.
Inside Politics newsletter The latest news on Brexit, politics and beyond direct to your inbox Enter your email address Continue Continue Please enter an email address Email address is invalid Fill out this field Email address is invalid Email already exists. Log in to update your newsletter preferences Register with your social account or click here to log in I would like to receive updates on politics every morning by email Update newsletter preferences
"The persistence of torture and the significant rise in the use of the death penalty since 2017 in Bahrain show that this soft-touch approach has not worked, and a further 10 inmates are at imminent risk of execution."
On Thursday, Sir Peter Bottomley MP, the father of the house, raised the issue in parliament, asking foreign secretary Dominic Raab whether he would "use the UK's constructive dialogue" with Bahrain to publicly raise the cases of these men and exert pressure.
James Cleverly, the Middle East minister, responded: "I can assure the House that our efforts to raise these cases, and also the broader issues of the use of capital punishment, with the Bahraini authorities will continue."
In 2016, Liberal Democrat MP Tom Brake accused the Foreign Office of "covering up" the allegations of abuse after then-minister Tobias Ellwood told the Commons Bahrain's ombudsman had "confirmed" there had been "no allegations of mistreatment or torture".
The Foreign Office was repeatedly presented with evidence suggesting that was incorrect by human rights groups, Buzzfeed News reported.
Asked for comment on the case, the Foreign Office directed The Independent to a statement in parliament last week by Lord Tariq Ahmad, the minister of state for human rights at the Foreign and Commonwealth Office, who said the government remained "deeply concerned" about the death sentences, and that Bahrain was "fully aware" the UK opposes capital punishment.
Maya Foa, director of rights group Reprieve, said: "It beggars belief that the government is behaving as if nothing has changed today when it is so deeply implicated in the death sentences of two men brutally tortured by the Bahraini regime. British taxpayers supported the SIU that whitewashed Mohammed and Husain's torture."
Mr Ramadhan and Mr Moosa participated in the pro-democracy protest of 2011 before their arrest three years later over the bombing in al-Deir, a village northeast of Manama. They have said they were stripped in detention, lashed with plastic pipes and forced to listen to the screams of other inmates being tortured for days. Mr Moosa said his genitals were kicked and beaten until he "confessed" to the killing.
Although Mr Moosa recanted his confession at trial, saying it was coerced, the court relied on it to sentence both him and his co-defendant, Mr Ramadhan, to death.
Bahrain's use of the death penalty and torture has soared at "an alarming" rate over the last few years, according to Reprieve. Bahrain denies all allegations of torture made against it.
Since 2012, Reprieve says, the UK government has delivered more £6.5m worth of technical assistance to Bahrain's justice and security sectors. The London-based rights group added that the agencies involved are not capable of carrying out torture investigations, allowing Bahrain's courts to continue sentencing citizens to death on the basis of coerced confessions.
Reprieve said in the 60 years prior to 2017, Bahrain carried out only 10 executions, with no executions between 2010 and 2017. In the three years since Bahrain lifted a de-facto moratorium on executions, it has carried out six, some of which have been described by the UN special rapporteur on executions as "extrajudicial killings".
Five of the six victims were executed on the basis of torture-tainted confessions, according to Reprieve – an allegation Bahrain denies.
Currently, according to Bird, 26 people are on death row in Bahrain.
"The terror of knowing that my husband can be executed by firing squad at any moment without proper notice is tearing me apart," Mr Ramadhan's wife, Zainab Ebrahim, tweeted after the sentence on Monday.
She also said she had been barred from entering the courtroom to attend her husband's hearing.
Bahrain's government said the case met all requirements of a fair trial, and that the initial judgment was followed by a second trial that looked into the allegations of abuse.
"Each of the defendants had an attorney present with him throughout all the stages of the trial," said Haroon Al Zayani, head of the public prosecutor's technical bureau, in a statement sent to Reuters.
A chronology of medical reports showed confessions were obtained "in full consciousness and voluntarily, without any physical or verbal coercion", he said.
Bahrain, which is led by a Sunni Muslim royal family but has a Shi'ite majority population, has been clamping down on dissent since 2011 when it quashed protests with Saudi help.
Home to a major UK naval base, the Gulf island kingdom has prosecuted and revoked the citizenship of hundreds of people in mass trials. Most opposition figures and human rights activists are jailed or have fled.
Additional reporting by Reuters