Radio Pakistan ridiculed over absurd weather reporting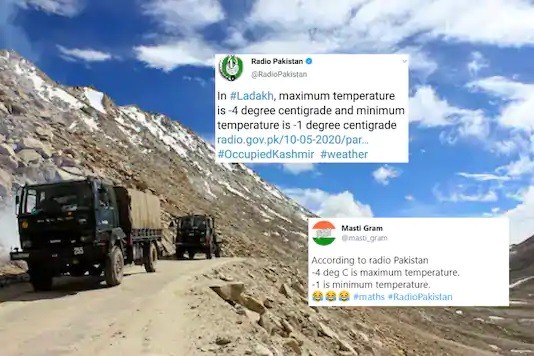 Pakistan has resorted to different type of war against India after information, cyber, and psychological wars. The new war with India is  on weather updates in the Kashmir region. 
On May 10, state broadcaster, Radio Pakistan read the maximum temperature was -4 degree centigrade and minimum temperature was -1 degree centigrade in Ladakh. It put question marks on the country's ability to read the weather patterns and temperature particularly in Ladakh. Nonetheless, Radio Pakistan and the country was trolled on Twitter for the lack of knowledge and absurdity.
Radio Pakistan hit panic button after the Indian Meteorological Department (IMD)
decided to give updates for Gilgit, Skardu, and Muzaffarabad as well in its daily weather
bulletins.  These cities are under Pakistan Occupied Kashmir.
In the past, some years ago India's state-owned television, Doordarshan used to give forecasts about
Pakistan occupied areas in its weather bulletins. It did not create any political or
diplomatic stir that time. Now, it could be Indian riposte after Pakistan planned to alter the status of Gilgit-Baltistan (G-B), a part of Jammu and Kashmir under its occupation.
Pakistan in January decided to strengthen its formal hold over GB since it is the gateway
for the multi-billion dollar China Pakistan Economic Corridor, CPEC. So elections are to be held for the Gilgit Baltistan legislative assembly, and the Supreme Court of Pakistan has
given its approval by removing all legal and constitutional hurdles.
India refuses to accept Pakistan's sovereignty over GB and the so called 'Azad' Jammu and
Kashmir under Pakistani occupation.  India also clarified that Pakistan has no legal right
over even an inch of territory in the state and a part of the state it ceded to China was
entirely illegal.
The old state of Jammu and Kashmir had acceded to India legally with an instrument of accession signed by the then Maharaja of Jammu and Kashmir, Hari Singh. So Delhi did not like the latest move by Pakistan.
There has been a dilemma in Pakistan over Jammu and Kashmir, to which it calls a 'disputed territory' but claims its right over all of Jammu and Kashmir because of its large Muslim population. It has vowed to wage eternal war against India, largely in the hope that eventually it will be able to establish its rule over all parts of the state.