Government, oil companies shift blame amid Pakistan's fuel shortage crisis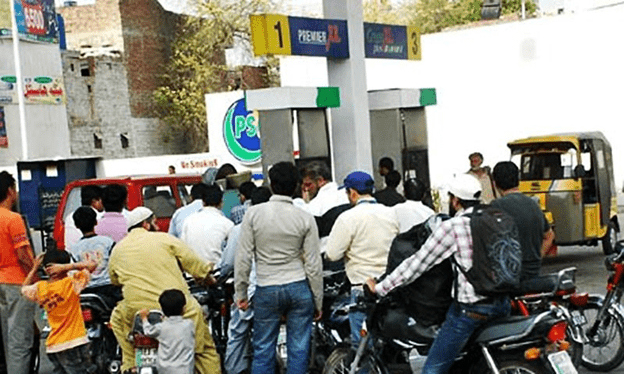 While the country grapples with fuel shortage, Pakistan's Petroleum Minister Omar Ayub Khan straightaway denied of any fuel shortage and blamed it all on oil companies of profiteering, threatening to cancel their licenses.
On the flip side, oil companies accuse the government of canceling oil imports when prices were dirt cheap because of the currency reserve crunch brought on by hot money flight after the Covid-19 pandemic started.
This is the same hot money crisis that competent economists had warned about when the government began its rash strategy to bolster sinking currency reserves many months ago.
In April, India had told state-owned oil firms to bolster reserves when global rates fell to a two-decade low. Pakistan slashed imports, clearly implying the government's plans. And now, as the government tries to blame the ongoing fuel crisis on oil companies, reports are emerging that this is another attempt to pass the buck.
One such report suggests that the blame should actually be placed on the Economic Coordination Committee (ECC) for rejecting a new price mechanism proposed by the Petroleum Division.
The most significant change would have been to allow refineries to adjust prices every two weeks instead of once a month, protecting them from price fluctuations. Due to lower prices during the previous month-long base period, the refineries chose not to produce rather than lose money.
Currently, refineries are allowed to fix ex-refinery sales prices of petroleum products on a monthly basis that is subject to the condition that the ex-refinery price cannot be more than the Pakistan State Oil's (PSO) average actual landed import price of the previous month.
While on the face of it, this would play into the government's claim that oil companies are profiteering, there is a problem with that argument. If the oil companies were unable to cover the cost of production at the government's price, there is no reason for them to produce. Shutting down then becomes a loss-reduction strategy.
The government can't tell the refineries to become loss makers just to make itself look good. This approach is summarized by the finance ministry openly saying the government was cutting fuel prices "despite the global trend of increasing POL prices".
The government could do several things to make life easier for people, but forcing private businesses to run losses to achieve this should not be an option.